Alabama Car Insurance
by Bianca Garrison - January 13, 2020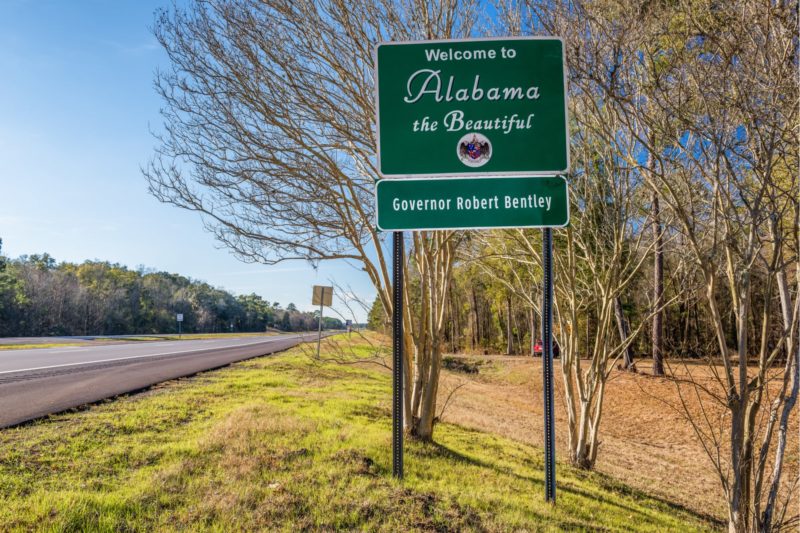 Sitting comfortably between Mississippi and Georgia is Alabama. A state known for college football, fried green tomatoes, and boiled peanuts. Alabama is also known for its historic civil rights landmarks. If you live in the Heart of Dixie, you probably do a lot of driving. Be sure that while you are driving through Tuscaloosa, Mobile, Birmingham, Montgomery, and every town in between, you have Alabama car insurance. The state requires liability car insurance and there are penalties if you don't have the minimum insurance coverage. Learn more about Alabama's required liability insurance.
Alabama Car Insurance Laws
Alabama requires drivers to have the following levels of liability car insurance coverage:
$25,000 for injury or death of one person in an accident that you cause
$50,000 for injury or death of more than one person in an accident that you cause
$25,000 for property damage for an accident you cause
Drivers may also purchase additional coverage, like uninsured motorist coverage, but the state does not require it. Liability coverage only covers other people's injuries or property damage; it does not cover yours. It pays for the medical bills, property damage of drivers, passengers, and pedestrians who are injured in a car accident you cause, up to policy limits. Your injuries and vehicle damage will not be covered. You will need to add additional coverage for that. Consider adding personal injury protection or collision coverage.
Liability insurance will cover the damages if you let a relative borrow your car, and it can also be used for rental cars.
Penalties for Driving Without Car Insurance in Alabama
If you are caught driving without car insurance in Alabama, you could face the following penalties:
Fines up to $500 for the first violation and up to $1,000 for any subsequent violations
Driver's license suspension for six months
Vehicle impoundment
In addition to these penalties, if a vehicle is operated without liability insurance, your registration will be suspended, and you will be subject to the following:
First violation: $200 reinstatement fee for registration and driver's license
Subsequent violations: $400 reinstatement fee and a mandatory four-month registration suspension
Proof of current auto insurance must be submitted to reinstate your vehicle registration.
Violating the state's mandatory auto insurance laws is categorized as a Class C misdemeanor. Don't drive without car insurance; call Bluefire to get a free, no-obligation car insurance quote.
What Happens if I am in an Accident and I am Uninsured?
Alabama is an at-fault state which means that the person responsible for causing an accident can be held liable for compensating the other parties for damages and injuries. If you are involved in an accident in Alabama, you can seek compensation in one of three ways:
File a claim with your own insurance company
File a lawsuit against the driver you believe is responsible for the accident
File a claim against the at-fault driver's car insurance provider.
If you cause a car accident while driving uninsured, the other driver(s) can sue you for the damages, and you may have to pay hefty fines and fees and may even have to do jail time.
What is the Cost of Alabama Car Insurance?
If you need affordable car insurance in Alabama, Bluefire can help you with that. We work with the top insurance companies in the country and can provide you with a free car insurance quote in just a few minutes. The cost of Alabama auto insurance varies and is dependent on several factors, including:
Age
Driving history
Location
Type of car you drive
Gender
When you call Bluefire for a quote, we will discuss all of your options with you to make sure that you get reliable car insurance that you can afford.
How Can I Get the Best Alabama Car Insurance?
To get the best car insurance for you, you will need to call multiple car insurance companies to get multiple quotes, and then you will need to compare the quotes. Or, you can let Bluefire Insurance do that for you. To help you get the best car insurance in Alabama, we work with the best car insurance companies and can provide you with multiple quotes in just a few minutes. We will help you pick the coverage that works best for your needs and budget and will answer all of your questions along the way.

SUBSCRIBE TO OUR NEWSLETTER
Related Articles
March 20th 2023

While auto insurance provides peace of mind to many drivers, you may still feel a little unsure[...]

March 6th 2023

As you shop for the best insurance policies for you, you'll likely run into insurance agents and[...]

February 20th 2023

There are plenty of situations where roadside assistance can come in handy. From the aftermath of an[...]