Top 10 Driving Distractions
by Bianca Garrison - February 7, 2020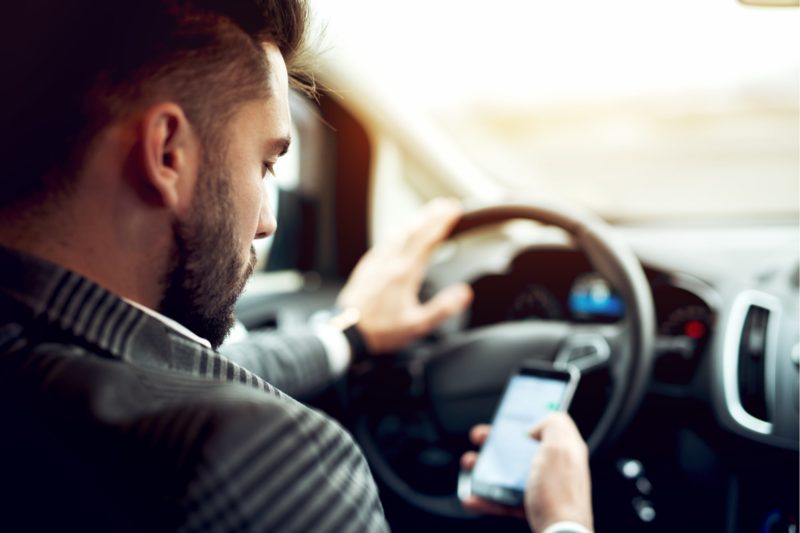 Driving safely requires focus and concentration. Many car accidents can be avoided if drivers eliminate distractions. Distracted driving is defined as any non-driving activity that a driver engages in while behind the wheel. There are typically three distinct types of distracted driving: manual, visual, and cognitive. All drivers must understand the dangers of distracted driving so they can make sure they are safe on the roads. Learn more about the top 10 driving distractions and what you can do to avoid them.
1. Texting While Driving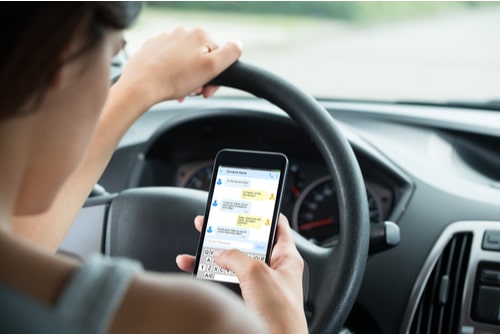 1 out of every 4 car accidents in the United States is caused by texting and driving. Cell phone distraction rates are incredibly high. Of all cell phone related tasks, texting is the most dangerous. We know that it is tempting to read a text message response that you have been waiting for or to text someone that you are on the way or are running late, but don't do it. It's far too risky; instead, try downloading an app that will read and send text messages for you.
Drivemode
According to its Google Play page, Drivemode has a streamlined interface to safely answer calls or send and hear messages, Drivemode's voice-enabled commands, and large buttons let you focus on driving. It integrates with Google Play, Waze, Spotify, and has live speed limit alerts. It has a 4.2-star rating and is available for Android devices.
Drivemode Dash
The developers of Drivemode created an Apple-friendly version for iPhone users called Drivemode Dash. Drivemode Dash has four buttons for navigation, phone, music, and messages. It integrates with Apple Maps, Apple Music, Waze, Google Maps, and messaging.
AutoMate
It allows you to use voice commands for GPS, text messages, weather, and more. Integrates with Google Maps, contacts, messaging, and music apps. Only available for Android and it has a 3.9-star rating.
Down For the Count
Down For The Count rewards you with gift cards and exclusive coupons for NOT using your phone while driving. Gift cards are purchased by sponsors (typically a friend or relative) and earned with 5, 10, or 25 hours of cell phone-free driving. Requires iOS 8.0 or later. Compatible with iPhone, iPad, and iPod touch, and it has a 3.9-star rating.
AT&T DriveMode
Available on Android devices, regardless of carrier, this app detects when your vehicle starts moving and automatically replies to texts you receive while driving. The app is available in English and Spanish.
2. Using the GPS
Setting up your GPS on your phone is just as dangerous as texting. Even a glance at the directions can lead to disaster. If you are going to use the GPS, make sure it is mounted where you can easily see it and turn up the volume so that you can listen to the directions.
3. Talking to Passengers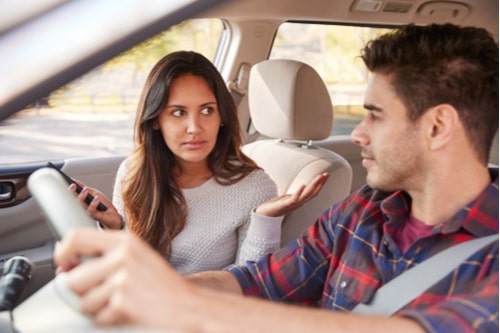 It's hard not to talk to those who are riding in the car with you. You may even feel rude if you don't. But talking, laughing, and looking at your passengers while you are driving are all distractions. A teen driver with one additional passenger is twice as likely to be involved in a fatal car accident. Try to keep your conversations brief if you have to talk.
4. Dealing With Children or Pets
It's not safe to let pets loose in the car, but sadly some people drive with their pets in their laps or loose in the front seat or back seat. Not only is this dangerous for your pet, but it's dangerous for you as well. We know that your dog may like hanging their heads out the window, but it's safer for them to be constrained. And any parent knows that dealing with children can be a huge distraction. They want your attention, they fight, they are asking you for snacks, and with all of that going on, it can be hard to focus on the road. If you have to travel with children and/or pets, make sure they are buckled up safely. Try to give the children snacks, water, toys, books before you hit the road.
5. Adjusting Audio or Climate Controls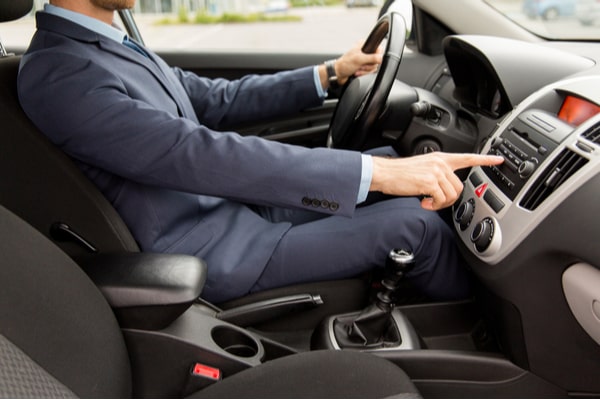 Maybe it's hot outside, and you need to crank up the AC or your favorite song just came on the radio and you want to turn up the volume. It may seem like just a small thing, but adjusting controls can take your eyes off the road for a few seconds and that's all the time that is needed to cause an accident. Wait until your car stops, or if you have a newer vehicle, use the controls on your steering wheel.
6. Eating and Drinking
Sometimes we have to eat a quick meal in our cars. After all, isn't that what the drive-thru is for? Taking a bite out of your burger or dipping your fries in ketchup is a distraction that should be avoided when possible.
7. Daydreaming
Zoning out or daydreaming is pretty common. It was responsible for 62% of all distracted driving car crashes a few years ago, according to the National Highway Traffic Safety Administration. Do your best to stay focused on the road.
8. Applying Makeup/Grooming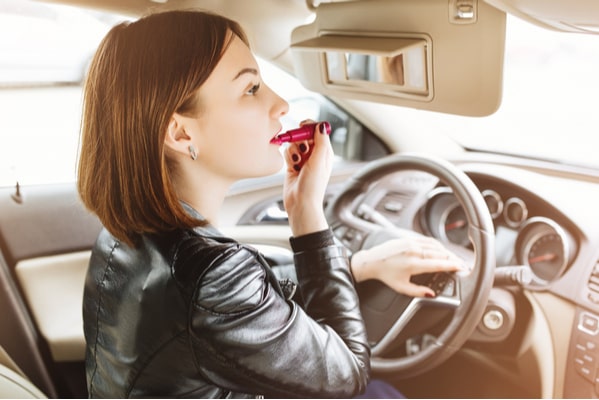 Some people are adamant about looking their best before they get to their destination. We get it. You want to look good. But the car is not the place to put on mascara, lipstick, blush, or even comb your hair. At least not while you're driving. If you can't finish grooming before you leave, then please wait until you get there safely and finish up in the car once you've parked.
9. Smoking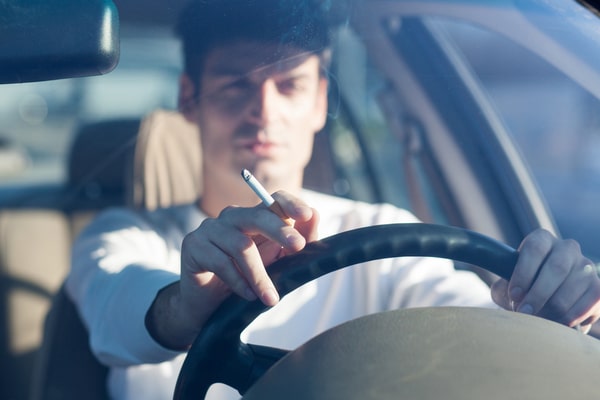 Lighting up, putting ashes in the ashtray, and grabbing a smoke are all activities that can take your eyes off the road.
10. Emotions
Driving while sad, angry, confused, can all lead to distracted driving. If you just had a bad break-up or had a bad day at work, take some time to cool off before you hit the road. Take deep breaths, call a close friend or relative, do whatever you can to get your emotions in check.

How Do Distracted Driving Tickets Affect Your Insurance Premium?
Getting a ticket for distracted driving can raise your insurance premiums. In some states, penalties for a ticket can raise insurance rates from $87 to as high as $762.

Stay Focused and Stay Protected
We all have to learn how to manage distractions while driving. Distractions are not always inside of our vehicles. A billboard, a group of people, a construction site, can all be possible distractions. The best way to prevent distracted driving is to maintain focus by keeping your eyes on the road. You also need to make sure that you and your vehicle are protected if you are ever in a car accident. Call your local Bluefire Insurance agent for a free, customized car insurance quote. We can help you get the coverage that you need.
SUBSCRIBE TO OUR NEWSLETTER