10 Helpful Tips for Anxious Drivers
by Steve Jones - March 20, 2023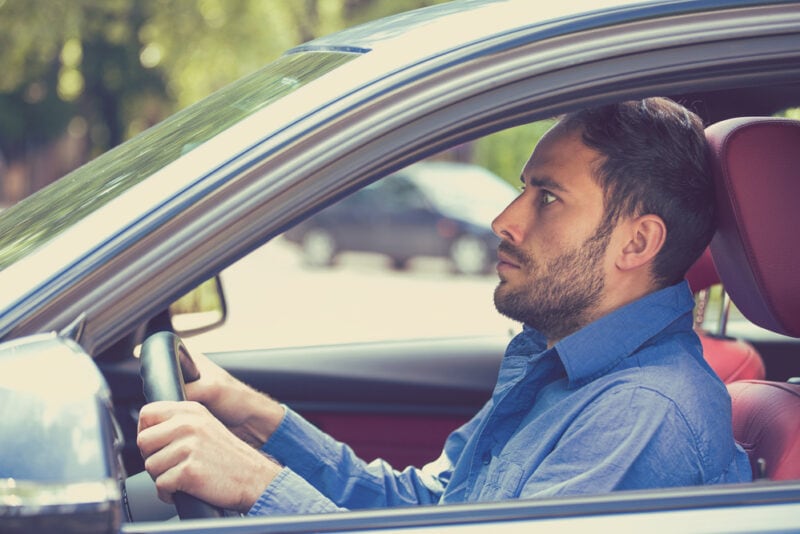 While auto insurance provides peace of mind to many drivers, you may still feel a little unsure of yourself behind the wheel.
According to a 2018 study from Transportation Research, 16% of survey participants experienced moderate to severe anxiety while driving, while 52% of the respondents experienced mild anxiety.
In other words, almost 1 in 5 people experience significant driving anxiety, and nearly 70% of people experience some form of anxiety!
Driving anxiety and stress affects most drivers, and if you count yourself among this group, then take heart: It's possible to overcome it!
Read on for 10 tips to help you conquer driving anxiety.
1. Practice, Practice, Practice!
Like any other skill set, becoming a confident and competent driver requires you to invest time in practicing.
Most states require drivers to complete a certain number of hours to receive a learner's permit and subsequent license, but you should consider topping up your practice hours at an accredited driving school if you feel less-than-confident behind the wheel.
You may also consider hiring a driving instructor to practice with you in your spare time if you feel you need the additional supervision.
2. Experiment With Deep Breathing Exercises
Recent scientific research into the effects of deep breathing exercises on stress and mood has found evidence that it can reduce heart rate and salivary cortisol levels.
In other words, taking the time to regulate your breathing can have an immediate and beneficial impact on your stress levels while driving.
In the study, participants were asked to implement an "Anti-Stress Protocol" while researchers recorded their heart rate and cortisol levels.
This strategy can also work for drivers. While on the road, if you feel your anxiety levels spiking, take deep breaths to bring your stress levels down.
Other techniques to consider include diaphragm exercises, progressive muscle relaxation, and pursed lip breathing. Experiment with different techniques to see which one works for you!
3. Don't Neglect Your Comfort
Ensure your vehicle has all the creature comforts you enjoy, including:
Proper seat configuration
Climate control
Mirror positioning
Music
Just be sure and take care of all of these things before you actually get on the road. Your stress level may go up if you are fiddling with the radio or the mirrors while trying to pay attention to traffic.
4. Plan Ahead
Map applications can help you plan your route ahead of time, particularly for destinations with which you may not be as familiar.
The most popular apps include Google Maps and Apple Maps, though many drivers may also use a dedicated GPS system.
With the advent of Bluetooth integrations such as Apple CarPlay and Google's Android Auto, you can also receive voice-based turn-by-turn directions.
5. Put Yourself in the Present Moment
Staying focused on the present can help you drive more effectively. Try putting your mental energy toward the immediate task of driving to your destination, and tune out your other worries until you arrive safely.
In fact, drivers face many distractions on the road. Doing your best to mute them can help you stay more relaxed on the go.
6. Create a Relaxing Music Playlist
Music can change your emotional state. By creating a playlist that helps you relax, you can better handle the road ahead.
One way to design a relaxing driving playlist involves choosing songs that incorporate attributes such as simple rhythms, repetition, and simple, sustained melodic lines.
Avoid high-energy music and blasting your stereo. Quieter, softer songs may help more.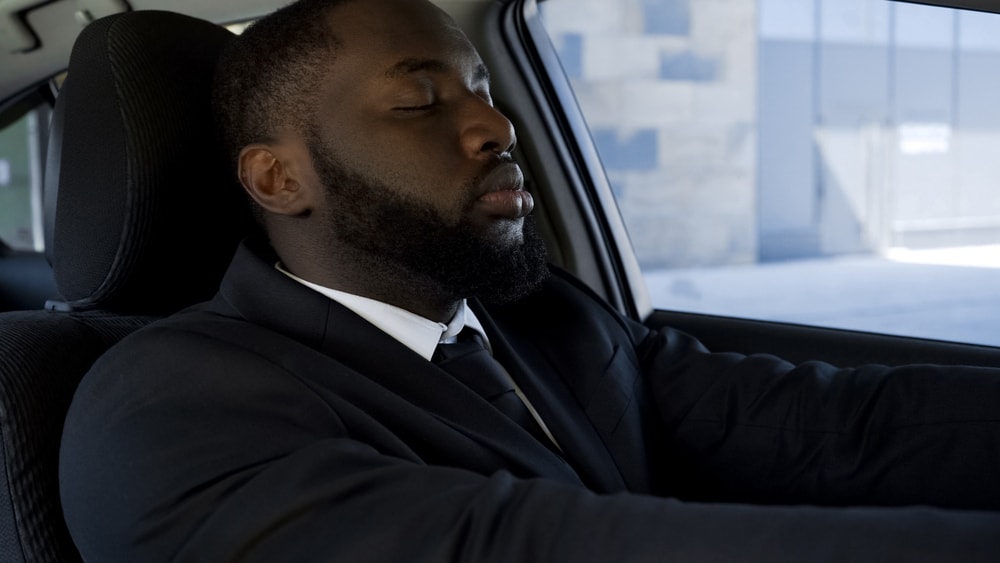 7. Take Breaks on Long Drives
If you have a long road trip planned, anxiety can cripple your ability to stay focused on boring stretches of highway.
If you know ahead of time that you will have a long route, consider taking breaks along the way at rest stops, gas stations, restaurants, or coffee shops.
During these breaks, you may also want to practice your breathing exercises as described previously.
Also ensure you have a plan in case your vehicle breaks down on a long highway drive.
8. Traveling With Kids? Be Prepared
Driving by yourself creates enough stress, but adding kids to the mix can push anyone over the edge.
We have written about traveling with children before, but if you missed it, we recommend you:
Brief your kids ahead of time.
Create a schedule and stick to it.
Provide entertainment for long road trips.
Communicate transparently.
9. Keep Up to Date on Maintenance
One key source of stress for drivers comes from the financial fallout of a major vehicle repair or maintenance emergency.
Keeping up to date on your vehicle's maintenance and health can go a long way toward avoiding the anxiety associated with unanticipated expenses.
We recommend drivers follow these regular maintenance steps:
Follow your owner's manual faithfully.
Identify regular maintenance items.
Do not neglect the small stuff.
Have a warning light? Visit a trusted mechanic.
Like any other expensive asset, your vehicle needs attention and care to stay in tip-top shape. Keeping up to date on maintenance can reduce your long-term stress from driving.
Seasonal maintenance matters too. You can read about how to prepare your vehicle for winter here.
10. If All Else Fails, Seek Help
If you experience persistent, severe anxiety that never relents no matter what you do, it may make sense to seek professional help.
Two types of professionals can help you with anxiety issues:
Therapists and psychologists: Therapists receive a license to provide talk therapy. They typically meet with clients once per week or once per month and may specialize in therapeutic systems like cognitive-behavioral therapy.
Psychiatrists: As licensed physicians, these professionals have an MD or DO degree and can prescribe medication.
Other types of resources with greater affordability also exist, such as self-help courses that make use of cognitive-behavioral therapy techniques.
Protect Yourself and Your Vehicle with Bluefire Insurance
At Bluefire Insurance, we provide comprehensive solutions for auto insurance and roadside assistance. Reach out to us online or call us at (866)-424-9511 to get started with your custom-tailored insurance policy!
SUBSCRIBE TO OUR NEWSLETTER